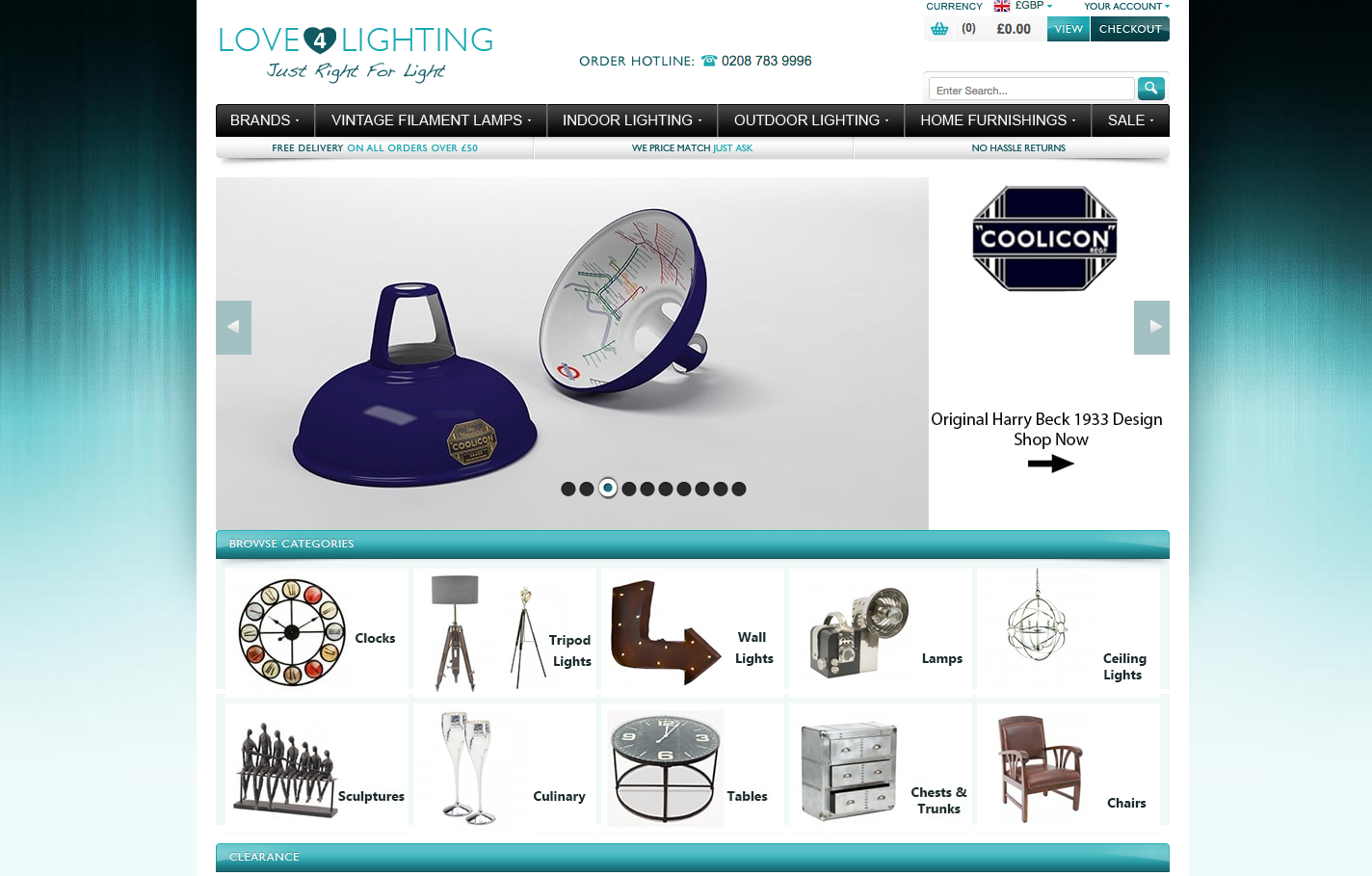 Project Description
Bang Bang Creative completed all the copywriting for new online lighting store, Love4Lighting. Our optimised content will help them improve their page rankings and increase sales. We have written optimised homepage copy, blogs and category descriptions so far and will be working closely with Love4Lighting in the future, writing blogs, category descriptions and product reviews.
Check out some of the words we wrote for Love4Lighting…
Love4Lighting are one of the UK's leading suppliers of light fittings and lighting accessories from a number of well-known global lighting brands. We offer an eclectic mix of interior lighting and exterior lighting for both residential and commercial applications, all manufactured to exceptional standards and available in a range of styles, colours and finishes. Whatever your project, however large or small, Love4Lighting are just right for light.
Our range of light fixtures and accessories is wide and varied – whatever style of light you require, you can find it here – LED wall lights, bathroom ceiling lights, pendant lights, strip lighting, traditional wall lights, contemporary wall lights and more.
We have a dynamic collection of designer lighting – smooth, angled contemporary ceiling lights and wall lights for modern homes, apartments and commercial enterprises. Supplied by reputed brands such as Astro Lighting, Lutec Lighting and Aurora Lighting, quality designer lighting will totally transform the mood and ambience of a room or commercial space, adding a breathtaking and highly visual finishing touch to renovation or building projects.
For centuries lamps have been a popular style of lighting and we have some great lamps to choose from here, including floor lamps, tiffany lamps, desk lamps and touch lamps. Whether you have a modern, rustic or traditional property, you find can find the lamps to suit at Love4Lighting.
Outdoor lights are available in both modern and traditional styles and the ranges available at Love4Lighting serve both practical and decorative purposes. Traditional wall lights with lantern-style designs work brilliantly for exterior lighting projects, adding decorative character and Old English tradition, as well as attractive lighting. We have bulkhead lights, which add that extra layer of outdoor security lighting for peace of mind. We also have some really beautiful decking lights and brick lights, which create soft, soothing lighting effects around patios and barbecue areas.
We have a charming range of traditional lighting and are delighted to offer high quality collections from Elstead Lighting. Their range of interior lighting includes beautifully crafted chandeliers with ornate, decorative designs and matching two or three lamp wall lights. Their outdoor lights are just as stunning and work wonders in residential and commercial settings.
High quality products, a stream-lined shopping experience and first-rate customer service are what make Love4Lighting tick and we are delighted to offer these in abundance to our customers. We have great offers on delivery and will also be providing some fantastic deals across our lights and accessories throughout 2013, so keep your eyes peeled!
Happy shopping, you've made the right choice for light!
The Love4Lighting Team