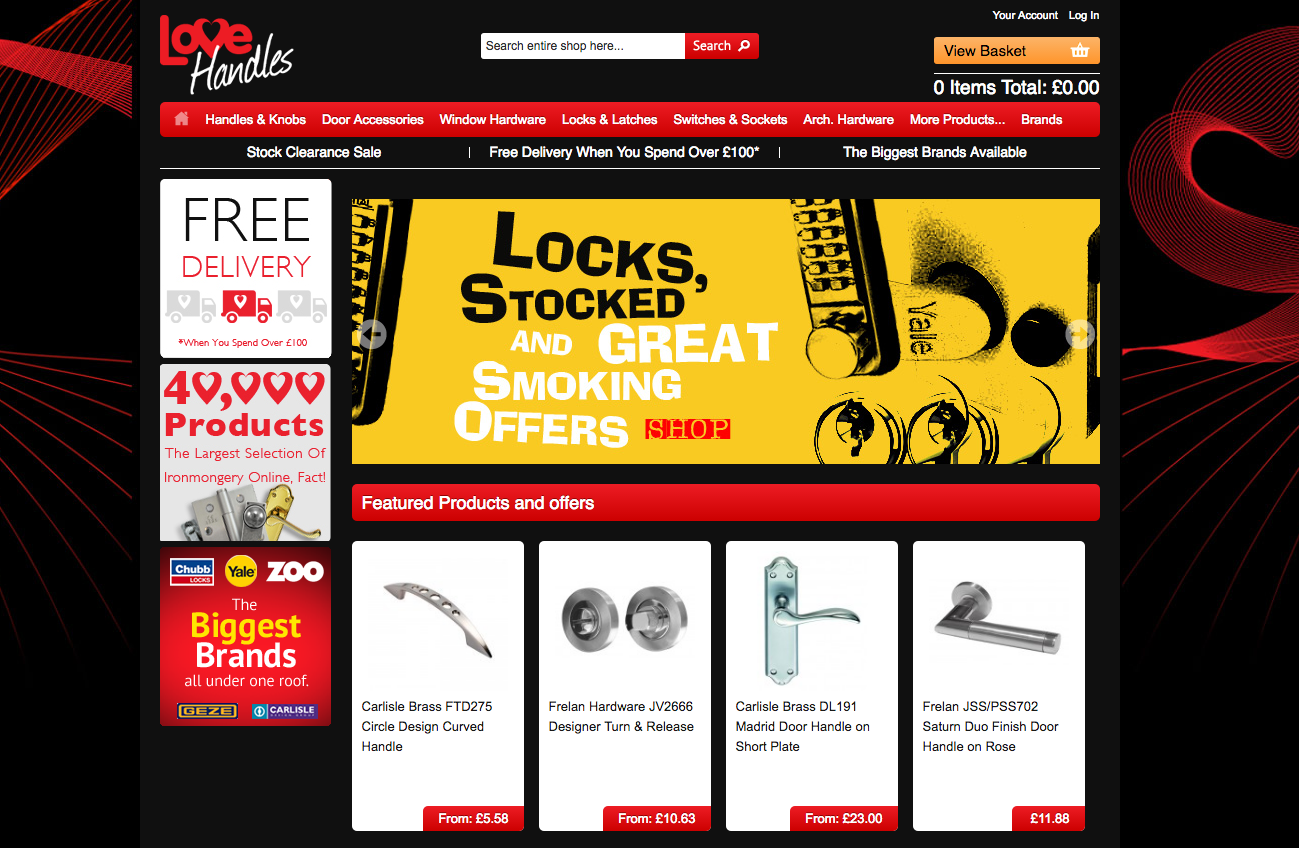 Project Description
Bang Bang Creative completed the website copywriting for online ironmongery store, Love Handles, to help them improve their page rankings and increase sales. We have written optimised homepage copy, blogs and category descriptions so far and will be working closely with Love Handles on an ongoing basis.
You can view some of the optimised copy we have written for Love Handles below…
Welcome to LoveHandles, the number 1 online store for architectural door hardware. We stock a wide selection of high quality door furniture to satisfy all your architectural ironmongery needs. Whatever your project, whatever the scale, whatever the setting – commercial or residential – LoveHandles can supply you with high quality door handles, door knobs, door fittings, window fittings, bathroom accessories and more. Our products look great, feel fantastic, work beautifully and will compliment the design of any interior. Take a peek at our outstanding range and you will see why we Love Handles.
We stand out over and above our competitors due to the quality of the products we offer, the amazing deals we have, our unbeatable customer service and our easy-to-use one-step checkout. Shopping with LoveHandles is a breeze and our secure online payment process offers peace of mind to all our customers.
We have sourced only the very best suppliers for all our door handles, door accessories, door knobs, window fittings and home security products. You simply cannot dispute the quality of the wonderful door hardware designed and developed by industry-leading brands such as Carlisle Brass, Chubb Locks, Frelan Hardware, Hoppe, Samuel Heath, Union, Yale, Zoo Hardware, to name but a few. If it ain't oozing quality, it ain't on LoveHandles!
Our range of door handles is eclectic, eye-catching and easy to browse – you can find just the handle to fit any residential or commercial application. If you require traditional door handles on backplate with a beautiful brass finish, LoveHandles is loaded with fabulous options. Need door handles on rose with a contemporary style for a trendy home or apartment? We have vibrant, classy chrome door handles and stainless steel door handles that will add a beautiful finishing touch to any modern living space.
For older style buildings, such as cottages, manor houses and listed buildings, you might like to try door handles on backplate with a rustic finish such as tin, oil-rubbed bronze, antique pewter or black antique. These door handles are, quite simply, stunning.
Our range of door knobs work well in all kinds of interior. Brass door knobs, black door knobs and wooden door knobs are a perfect fit for traditional, classic or rustic style interiors and chrome door knobs are certainly back in fashion, adorning the doors of many contemporary homes and commercial buildings.
Cupboard handles are available in a whole host of designs and finishes and we feature a dynamic range from reputed brands such as Carlisle Brass, Fingertip Design and Kirkpatrick. For a quick kitchen makeover, fitting new cupboard handles can totally transform the look and feel of your kitchen for a very affordable price, in super-quick time.
LoveHandles offer great deals on delivery and are always happy to be challenged on our prices if our customers have found a product cheaper elsewhere. Customer satisfaction is the secret to our success.
We welcome you to our store and we look forward to welcoming you back again and again, for all your architectural ironmongery needs.
If you love handles like we love handles, well, you couldn't be at a more lovely and loving online store – happy shopping!
The LoveHandles Team
Many people will live in the same house for decades and barely notice, let alone think about, changing their interior door handles. You might think that door handles are nothing to get excited about, that they simply aid in opening and closing doors. If you are one of these people, then let Love Handles open your eyes to door handles that sparkle, handles that are full of character and handles that can re-freshen and revitalise the look of any room!
If you have tatty old handles that haven't been changed or maintained for years, then why not give your doors a quick makeover – you'll be amazed at how something as simple as changing the interior door handles in your home will give your whole interior a new lease of life. There are literally thousands of door handle designs on the market these days. Most have been designed and developed using computer programming and modern day production techniques to ensure fantastic functionality, beautiful finishes and stunning styles.
Interior door handles come in two styles – door handles on rose or door handles on backplate. Rose door handles are extremely popular in modern interior design due to the neat, compact designs and smooth operation. Rose door handles can also be found with more traditional finishes such as black antique or bronze, which makes them popular for older style properties too.
Backplate handles work brilliantly as internal door handles on all kinds of interior – Georgian, Victorian, rustic, modern, traditional and more. They come in a whole host of finishes and lever styles, so finding a handle to suit the interior of your home is a pretty straightforward task.
The interior door handles that are sourced and sold at Love Handles are full of style, fine ergonomics and they all function superbly. We feature handles from renowned, respected brands such as Carlisle Brass, Frelan Hardware, Kirkpatrick, M.Marcus, Karcher and Olivari. So, why not give your home the boost it needs by doing something as simple and straightforward as changing those interior door handles.
When looking at exterior door handles, the most important aspect to consider is the finish. How will it cope in exposed areas? Will it require lots of maintenance? Is it liable to rust or degrade after a short while? Will it survive in salt air environments close to the sea? Exterior door handles are used for a variety of applications in both residential and commercial settings, so it is important to make sure you make the right choice.
If you own a traditional style property such as a farmhouse, cottage or manor house, then black antique exterior door handles are a very popular choice. Black antique is a liable to rust after a period of time so, if you require this finish, it is important that a decent quality wax is polished into the finish once in a while to maintain its appearance and lengthen its life! Many people actually leave black antique door handles and other fittings to do as they please because they like the rusty, mottled effect that develops over time as it may compliment the rustic, distressed style of their home.
Polished brass exterior door handles are popular for town houses and Georgian or Victorian properties. This finish is a famous 'ruster' so if you want exterior fittings in polished brass, we suggest going for a more expensive option that has a superior lacquer to a budget brass handle. Polished brass exterior door handles will require regular buffing with a quality wax to maintain the beautiful sheen.
By far and away the best material to expose to the harsh UK weather is chrome, due to its robust nature and ability to cope with all weather conditions. Chrome exterior door handles will last a very long time and require little maintenance to maintain their original appearance, just the odd gentle wipe down with wax. Chrome handles are popular for modern properties and work well other chrome window and door fittings.
For a stunning range of chrome, brass and antique exterior door handles, browse the Love Handles coiffeurs to find the best handle for your upgrading or renovation project, there are plenty to choose from.